Got a classic ride and need to keep the weather, dust, and moisture off?
CarCovers.com have over 25,000 customer reviews all praising the service and quality car covers, SUV covers, pickup truck covers, motorcycle covers, and RV covers.
CarCovers.com have been supplying online orders since 2008 and just one quick check through their customer reviews will convince you of their quality covers for your custom ride.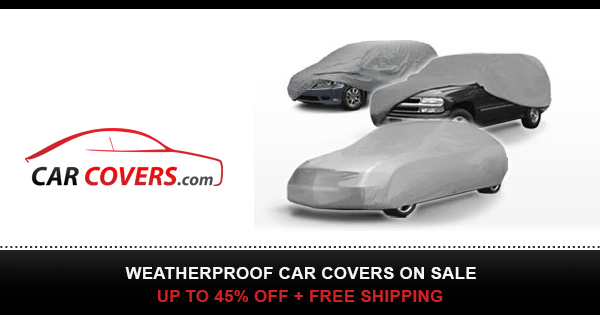 Why is it so important to protect your classic car with a classic car cover?
If you don't mind keeping the dust off your ride, think about the moisture and condensation that accumulates even if your car is locked safely in a garage. Many garages are not insulated and climate controlled, and it's important to protect your classic ride from extreme cold, extreme heat, and extreme moisture.
A properly fitted car cover will maintain an insulated barrier against the extremes.
Your classic car's cover will prevent damage from accidents in the garage, like scrapes and the risks of tools and parts dropping onto or against your investment.
In a home workshop, paints and solvents, waste and dust are likely to damage your clear coat.
If you need to store your classic car or truck outdoors for a day or two, you know it's protected under a CarCovers.com classic car cover.
Why buy from CarCovers.com?
Over 250,000 customer comments with positive responses.
Free shipping within the USA including Alaska and Hawaii.
100% Guarantee. If we ship the wrong product, we pay for the return shipping. Within the 30 day return policy.
Want a price for your classic car cover?